The light of the sunrise is softened by sheer curtains; it bathes the ceiling, painted in a hue of powder-blue. Beneath it I feel immersed. The air is cool and the silhouette of nearby ridges are just greening. Winter came and went a week ago. Snow and ice halted Spring's early blooms. Naked trees expose ground cover, last season's leaves are dry umber. I toss back the crisp white linens, stretch and greet the morning. Tis another grand day in North Carolina, my second home, never far away.
Buttermilk pancakes laced with sugar reflect nearby Cherry Blossoms. Blueberries dot my plate like the violet bordered landscape. I measure the morning in conversation and coffee sips, whilst plotting leisure promenade. My destinations beyond breakfast are gardens, hot houses and conservatory ( biltmore.com ).
Amid the shrouded canopy of centuries old evergreen, I climbed flights to the garden terrace. My ears were met by a melodic sound. Compelled to seek it our, I felt certain of its realism. There is something quite distinctive exhibited in living art. No matter how much we attempt to preserve and relive it in recorded form, there is something indelibly unique in first-hand experience. Regardless of strength in volume, or quality of projection, living works can never be imitated evoking the same impression. Memory is what we have enabling us to fulfill that wish to relive the art again and again. Feel something, see it, hear it, smell or taste it and you find yourself adrift in memory, reliving that moment that you did indeed live.
I heard a violin and knew it wasn't a recording. the conservatory speakers were silent. Sunlight glistened upon falling mist, living art was projected among the cascading foliage. I can't help but believe that plants must grow much more exuberantly when there is music cast upon their leaves. 
As I meandered through this parallel garden-scape, I found myself returning to memory of pastimes filled with savory artistry.
On a day, much like this in mid-March, I arrived to the home of dear friends. In celebration of Saint Patrick's Day, Chef Robin White planned a scrumptious feast. I'm certain that I can speak for all she and Andrea Sutton's guests, in saying, there isn't any luck needed when one can count them as friends. I consider myself blessed and indeed truly fortunate, to share moments and meals with such extraordinary spirits kindred.
To dine at Chef Robin's table is to experience living art to which heart and memory knows no end. Personally welcomed in by Robin and Andrea, guests were embraced by two of Hillsborough's newest and dearest residents. Arrivals, greetings, introductions and aperitifs were shared as friends and guests (who instantly became new friends) delighted in a host lead tour through the home's artful corridors. Resonance in guest's expressions seemed evident; we all agree, the home of Chef Robin White and Andrea Sutton is where art lives.
A symphonic ode to both host and guest appreciations enraptured this affair with a private concert of harp played in the grand foyer. In celebration of Saint Patrick's Day, the chef's table was adorn with clover, miniature daffodils, candle light, lace and soft hues of green.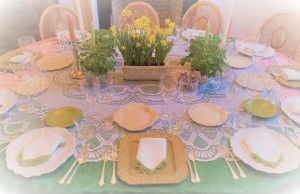 Introduction to dinner was curated by Chef Robin, consisting of corned beef, cabbage, rutabagas, potatoes, roasted beets, two handmade soda breads and the season's greens laced with colors for the holiday. In honorable appreciation for the chef's attention to detail, each guest lovingly addressed the thoughtfulness placed upon each sustainable ingredient. Along with the delicious fare, we gained a fruitful education on Irish infused English Cuisine and its influence upon early American culture.
An evening at this chef's table is an engaging, though provoking experience likened to the exchange of music from the musician to the ears of the hearer. Chef Robin White and Andrea Sutton are making their mark upon the world in many ways. With fork and fingertips, their expansive work is engaging, and their hospitality invigorating. With every grand affair, however opulent or quiet, to experience their humility, and their love for life is life changing.
—Art is Life Expressed— Sarah West
To learn more about Chef Robin White, and to gain insight into her recipes and more, follow the chef via twitter @Canapes45, via thedailybasics.com and at chefrobinwhite.com