"Afternoon on County Road 243"
By Michele West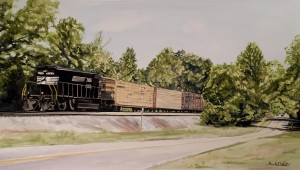 This Christmas, the Sarah West Gallery of Fine Art announces the print release of Afternoon on County Road 243, by Michele West. Afternoon on County Road 243 commemorates the move of the historic Jones Store to Smiths Station City Hall Campus, with depiction of the passing train captured moments before the store was carried to its permanent destination. The longstanding area landmark, known as the Jones Store was relocated on May 10th, 2017. The move of the structure serves as a milestone in Smiths Station City history and marks the City of Smiths Station's progressive efforts towards future historic preservation.
Archival Prints are scheduled to be released December 2017
All Print Orders placed by December 19th, may be signed (upon request) by the artist, and will be available for Christmas Gift Giving.
Print Size: approximately  24 x 13″
*each print is signed and is accompanied by Certificate of Authenticity
Price: $160
To acquire your print, your may place your order at the Sarah West Gallery of Fine Art or with order and payment by phone- cash, check and all major credit cards are accepted.
Shipping: Additional fees may apply, if shipping is requested
334-480-2008
2750 Lee Rd 430 Smiths Station, Alabama 36877