Spring showers drip through the greening canopy as the car glides lazily around the curvaceous landscaped urban lanes near East Samford. A stone facade pays homage to drier climate, and tells tale of influence from a western terrain. Timber and rock serve as visual compliment to aroma's that drift beyond the curb, hot and savory. You can almost taste it. We stand in line surrounded by pictorial hunting stories shared from far and near. We bask in anticipation with little concern for the growing line, an expected continuum. We're all here for the same reason. Food unites people.
House made tortillas cascade from the press. A window provides patrons with a process exhibit. From conveyor, they are rolled and stacked in heated pans. From the oven yields fresh baked loaves, Texas sized. Wood crackles as the heat is managed o'er a fire, a chandelier of sorts displays brisket, shoulder and various selections of smoked and roasted game.
Today I forego my usual favorite, pulled pork shoulder accompanied by slaw and tortillas. This I often pair with Alabama white sauce, salsas and sweet pickles. Chef David Bancroft has appeared in an instant from the kitchen, catching me by surprise to say, "we have only two specials left." Scrolled out on a butcher paper menu, the special reads "BBQ Molcajette." I have never had this dish, so I'm inclined to try it. After David's exuberant descriptive, no persuasion is needed. A dish made for sharing, fortunately the rest of my party is up for the adventure. It is late afternoon. This luncheon turned casual supper calls for margaritas, blood orange with salted rim.
The early evening light pours through the industrial doors, casting streaks across the table.The room of whitewashed walls, interesting artifacts and impressive mounts reflects roots, heritage, husbandry and legacies of land stewardship and farm raised cuisine.
Chef Bancroft arrives at our table curating the anticipated new mammoth sized dish. A volcanic mortar filled to the brim with barbeque brisket, St. Louis ribs, spicy chorizo, and some of the best baked beans, he explains, he spent hours perfecting. And they are the best I've ever had. Complete with all the appropriate garnishes, and flourished with tortillas.We savor all that we can. Admittedly, there was plenty left. This is a quintessential family meal with flavors of southwest comfort that is universally southern.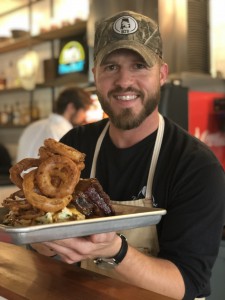 Pt. II
It's Friday evening. The crowd assembles, a line forms, zigzagging 'round Bow & Arrow's entrance. An eclectic blend of old country, folk and newer grooves render the soundtrack for the staff who usher butcher trays down the line adding farm fresh soul-food sides to smoking cuts of brisket, and ribs. Tonight is Friday, this means, it is also fried catfish night.
While the crowd sways, peering to read the listed specials in advance, I've already made my decision. Who can resist the best catfish around? Light, flaky and hot, right out of the fryer and brought to my table with a refreshing spoonful of house made tartar sauce. My mind was made up. Then David appears asking enthusiastically, "have you seen my post on Instagram?" Surprised to see this busy Chef in front of house, boosting a jubilant social atmosphere along the line, I pause, reach for my phone and scroll. It has been a busy day, with little time for social media. As I search for the insta-news, he can't resist sharing a descriptive of his latest dish. I toss my previous decision aside. About the time I find the post, we've already heard first hand, the delicious works that his team have been smoking all day for us.
Double cut, dry aged and smoked short ribs from Gold Hill Cattle Farm (Waverly, Ala) paired with collard green colcannon, and PBR onion rings, with butter barbeque sauce. the chef proudly proclaims "I promise these are the best smoked short ribs in the state of Alabama at this very moment." Like a miner who has just struck gold, or the all too familiar moment an artist paints with a stroke of genius, his enthusiasm for his work lights of the room. His staff shine with pride,and the exuberance among the line spills forth. It is contagious and we are all overwhelmed with delight, eager to try the latest creation.
From my table, I can see into the kitchen. Two chefs stack and carefully arrange the components of this dish on a butcher tray. They pause for a photo opp. Although I'm anxious with anticipation, I wait somewhat patiently, hoping they catch the right lighting, to share this image with fans and followers. When David arrives, I ask if they captured a picture. In the current age, there is a benefit to imagery, affording all the opportunity to savor the memory of such extravagance long after the occasion. Aside from their intent to share, I too have my intentions. Anything worth writing about should be written, and accompanying pictorial content makes for a pleasant addition.
This occasion calls for special dishes which David pulls from the kitchen. We chat for a moment about cutlery, and then retract any statement about it, as for this, none is needed. The meat falls from the bone with savory drips onto the pan. Rich and hearty collard green colcannon pair brilliantly with the butter barbeque sauce. PBR onion rings are a perfect accompaniment for this chef curated meat and potatoes concoction that is simply satisfying.
Following a dinner of this magnitude, dessert is out of the question. However, recent visits to Bow & Arrow have provided opportunities to pair lighter fare with locally roasted Mamma Mocha's coffee served conscientiously in your choice of unique or whimsical coffee mug. Bow & Arrow in their continued endeavors to be respectful stewards of people and planet, they have eliminated paper coffee cups, and offer straw alternatives. The dessert menu reads like a grandmother's well-worn cookbook, boasting selections fit for any Sunday luncheon on the grounds or lakeside picnic. When looking for the best pecan or lemon meringue pie, you reach for the heirloom recipe box in the cupboard and set to work making the faithful recipe passed down through time. The only other way to experience something of worthy resemblance is to make your way to Bow & Arrow and try whatever Chef Caleb Fischer has added to the menu. His banana pudding with homemade vanilla wafers is second to none. Refreshing as the rain, and as honest as the farm harvest, the work of these Alabama chefs raises the bar.
-Sarah West
*special acknowledgements to Chef Bancroft, Chef Caleb Fischer, Bow & Arrow management and the team of stewards who make every experience exemplary
To learn more about the Farm to Table food scene, the farmers and chefs who are championing like endeavors in Lee County, Alabama follow Bow & Arrow, Acre, Chef David Bancroft on social media.