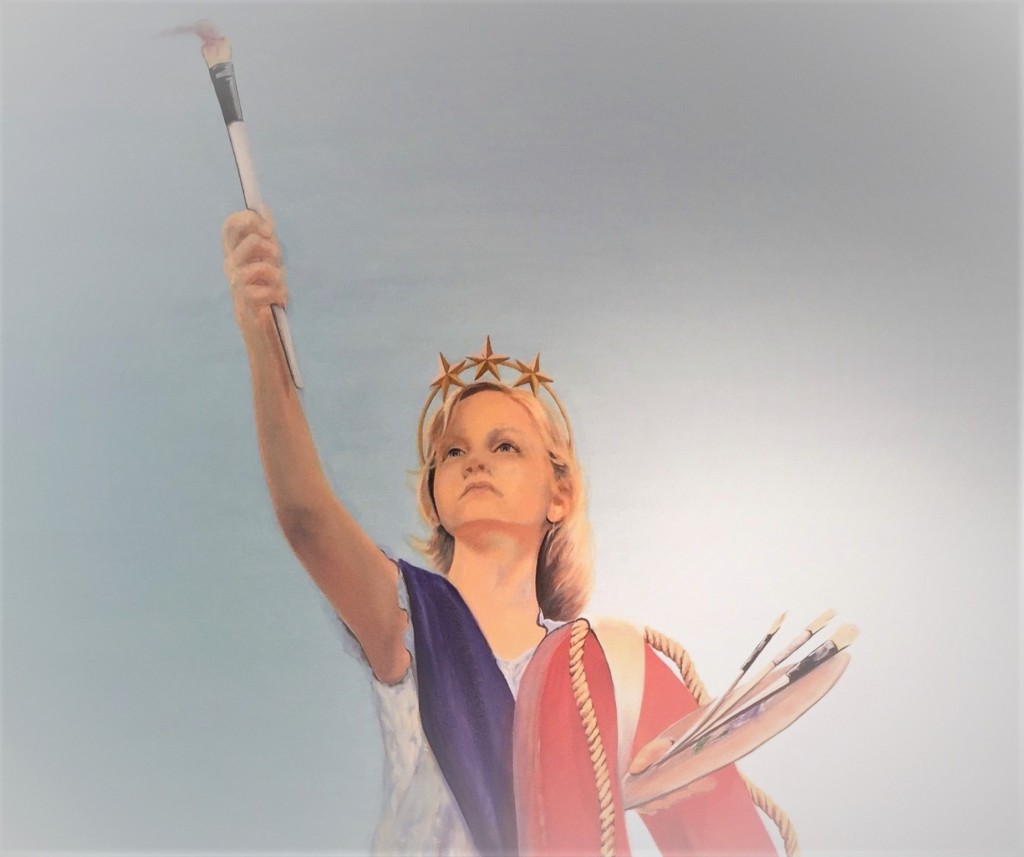 The Civility Paintings debut exhibition, presented by the Alabama State Capitol in collaboration with the Alabama Historic Commission present, an ALABAMA 200 Finale event commemorating the stories of our people, places and path to statehood. This Alabama State Capitol hosted exhibition debuts the Civility paintings by Alabama artist, Sarah West. Marking the bicentennial finale at the Alabama State Capitol, this occasion bridges the year 2019 marking the conclusion of the ALABAMA 200 bicentennial celebration with the Centennial of the National Women's Suffrage Movement commemorating Women's Right to Vote through nationwide celebrations of activism in history 2020.
The Civility Paintings | Alabama State Capitol Exhibition
 ALABAMA 200 Finale 
Exhibition Opens | December 14th, 2019- February 15th, 2020
The Alabama State Capitol | Historic Supreme Court Chamber
600 Dexter Avenue Montgomery, Alabama 36130
The Civility Paintings debut exhibition presents the first installation of its kind exhibiting the eight initial narrative paintings created by Alabama artist, Sarah West. This open ended collection of large scale narrative paintings illustrate and address current events, topics of social climate, civility and the seemingly lack thereof, all through historic symbolism. Central topics brought to the forefront in the series present opportunities to bridge the gap, reach across the isle and share conversations regarding civil stewardship to our fellow man and the world that we inhabit.
Sarah West, is narrative painter, an advocate for arts in education, historic preservation, sustainability and nature conservancy. She is writer with over 300 works published through Alabama press (the Citizen of East Alabama and the Opelika Observer.) She serves as appointed official artist for the City of Smiths Station, Alabama, as well as curator and artistic adviser for the City of Smiths Station- City Hall Exhibit Galleries. She is a founding member of the Smiths Station Historic Commission, an elected member of the Society of Illustrators, and an independent advocate for the arts providing year round support to participating Lee County Elementary Schools in Smiths Station and Salem Alabama. She also mentors students who travel to her rural studio located at The Sarah West Gallery of Fine Art, A Center for Cultural Arts, in the heart of Smiths Station. To learn more about the artist, and the works exhibited click the links at the top of this page.
Follow the artist on social media via instagram, twitter and facebook
To Reserve Your Alabama State Capitol Tour click the link www.ahc.alabama.gov
To Learn More about ALABAMA 200 click the link www.alabama200.org