An Evening with Jim Avett
-Life's Shared Pages-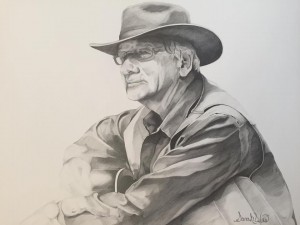 His voice bears the rugged charm of the American landscape. His constitution reflects that of a man from a different age. With a quiet walk he carries a vintage guitar and fine weathered books. His hat tipped low casts a shadow 'cross his face; behind familiar frames lies a distant gaze.
Whether standing on the mid-west plains, an Appalachian ridge or his farms piedmont rolling hills, he sees the potential best in most things. With a strong disposition, he favors hard work and further education. He tends to endless farm chores, bales hay and stacks it in the old barn, tills the soil and reads near the warmth of a wood stove.  His library boasts volumes of varied works and he prefers those written at the source. He values the practice of observation and all of this and more lends itself to his artistry and efforts towards conservation.
Perspective spills from his conversations to his music's pen. Enveloped in eloquently picked guitar strings are the words he uses to convey tales of many things. He sits with one arm rested o'er the guitars arched shape, and the other relaxed on his knee as he casually speaks of things that he's thought and seen. He leans toward the crowd and addresses them like old friends. His stories, some humorous, some peculiar and many quite meaningful seem to relate to all and captivate the audience.
He draws from his life and family history and writes songs for posterity. Upon countless sheets of music, stacked, archived and new works in progress lay experiences reflecting love, loss, lessons and much life lived. He embraces each line and the turning of a page, recognizes life's chapters, one's purpose and the mark that one might leave.
Family is at the heart of his legacy. Deeply rooted in love and heirloom traditions, music transcends the generations. His history is filled with great men, and he carries on the things that he learned from them. He dusts off hidden gems that in these modern times are labeled quite obscure. He reintroduces values, thoughts and standards with music and stories so that they might be appreciated instead of forgotten.
While his children have each made their mark and are contributing artists restoring the way music is rendered and savored all the while encouraging a greater connection with community, life and people. Jim Avett and his wife, Susie travel the country, often taking the back roads across America's heartland, to share the things that life has given to them.
…
And at the close of a nation wide fall tour, following stops in the mid-west and along the Pacific Coast, this quintessential troubadour spent time at the Sarah West Gallery of Fine Art, nestled in the rural town of Smiths Station, Alabama.
On an October night, while autumn leaves began their golden dance, he shared his stories and songs with all, surrounded by past century architecture and jeweled glass.
He rested his hat on his guitar case, reached for his vintage Gibson and began to sing. The church filled with people who traveled from miles around. They arrived greeted by the local Boy Scouts who passed out programs. As the evening sun began to fade, jeweled windows presented a splendid parade. Autumn light softened with the day as Jim Avett's stories and musicianship enchanted every age.
Amid two sets, he showcased songs of his own, some were ballads while others carried great suspense. Nestled between his own works, he introduced some that were lesser known. His audience varied from the young to the more mature, those of the modern age and those whose memories reflect a different time. He shared stories which rendered intrigue and laughter, while some even raised eyebrows. He captivates all with the history behind the songs that we know so well. From Hank Williams to Tom T. Hall and Townes Van Zandt, his music provides us with a greater appreciation for this tapestry woven with musical threads.
He is an explorer who captivates us with the experiences he shares. These tales of love, hard work, music and legend grip the audience and leave all wishing the night wouldn't end. As he presents his last song the crowd expresses, "oh no, please sing and share more." I smile joyfully, knowing that this storyteller extraordinaire has found a new community of appreciators here. "Leave is better than you found it" this artist explains. His words empower them to do the very most for the greater good with each new day. "Be unique and do you best" are words which resound and I watch as all nod in united agreement, no doubt inspired by this North Carolina music man.
Within a historic whitewashed haven built in 1901, a community came together in celebration of life, growth and Cultural Arts. In the autumn moonlight the steeple glowed, glass cast prism hues upon the rural drive as history and music billowed from her corner doors. Down the steps, we greeted all with gratitude and warm goodbyes as each shared hopes that this artist would return again. With his music in hand and hat tipped, he grips his guitar case and journeys onward.
— Art is Life Expressed — Sarah West —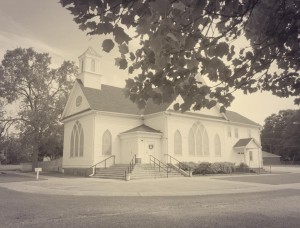 It is with sincere gratitude that I, on behalf of The Sarah West Gallery of Fine Art express our appreciation to Jim Avett and his beautiful wife, Susie for the time and enrichment that they shared by being here.
Also with expressions of gratitude to The Sarah West Gallery of Fine Art's Cultural Arts Enrichment Program's collaborative partner the historic Mount Zion United Methodist Church for partnering with us to host this event.
Special thanks to The Citizen of East Alabama via Sarah West's contributed column, the Columbus Ledger-Enquirer, Art Currents, Columbus Music Scene, Electric City, Road Warrior Music, Smiths Station Boy Scouts and many more who shared this event with the community and region.
To learn more about Jim Avett, his music legacy and upcoming tour dates please visit www.jimavett.com
An Evening with Jim Avett