The Sarah West Gallery of Fine Art presents a summer exhibition featuring Sarah West's, recent portrait of legendary folk musician, Doc Watson. In July of 2016, Sarah West received the honor of debuting her illustrative rendering of Doc Watson at the Doc & Merle Watson Museum during the 19th annual Doc & Rosa Lee Watson MusicFest 'N Sugar Grove at the Historic Cove Creek School.
Having just returned from debut exhibition, Doc Watson will be exhibited within the Sarah West Gallery of Fine Art during the Summer/Fall Season 2016.
Architectural framework and iconic portraiture have long been subjects of prominence within the gallery, atelier and portfolio's of Sarah West. The places, events, experiences and people from which Sarah draws much inspiration are depicted within her work. From the masterworks of the Flemish painters to the charismatic expressive chords encapsulated by the early American Illustrators, philosophy, science and atmosphere have as much to do with her decided style of rendering as does the history behind her subjects.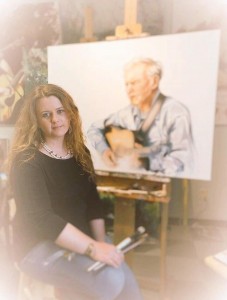 With exceeding appreciation for the work and legacy of Doc Watson, Sarah created this painted portrait as a study of the person, intending to capture and compliment the nature of this North Carolina musician, who is beloved by many. Her relationship with the Appalachian region -the mountainous geography, the flora-fauna, nature-scape, the trials and tribulations of the people of the hills, and history all converge upon her canvas. Sarah refers to these works as simply, "Appalachia."
Possessing strong commitment to her stylistic approach, she combines atmospheric distortions with traditional illustrative portrait composition. She chooses to retain the place of being, the senses of feeling and time within her portrayals of life as she experiences it.
Art holds its place in the world long after the lives have been lived. Like the music, the books, and documents, art illustrates for us, the people, places and events where legacies began.
Within the vast realms of art is where legacies still live.
Summer/Fall Exhibition
"Doc Watson" (2016)
Oil on Canvas
Artist Sarah West
The Sarah West Gallery of Fine Art
2750 Lee Rd 430 Smiths Station, AL 36877
Tele: 334-480-2008
Email: sarahwestgallery@att.net
Exhibit on view during gallery hours. *Private viewings are available by appointment.