"Limited Edition Fine Archival Print"
featuring
Jim Avett
By Sarah West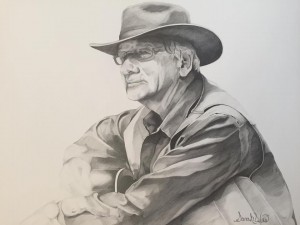 "An Evening with Jim Avett"
Pre-Show Reception, Gallery Exhibition & Print Signing
Thursday October 8th, 2015
at
The Sarah West Gallery of Fine Art
Smiths Station, Alabama
The Sarah West Gallery of Fine Art invites you to join us in celebration of our New Cultural Arts Enrichment Program & Artists Showcase- featuring singer/songwriter, musician and storyteller extraordinaire, Jim Avett.
We also invite you and yours to join us for a Pre-Show Reception & Gallery Exhibition prior to "An Evening with Jim Avett," presented in part by the Historic Mount Zion United Methodist Church. The pre-show exhibition will feature many works by Sarah West depicting Jim Avett and his musical legacy. In honor of this special event and our featured guest, the Sarah West Gallery of Fine Art will mark this occasion with a Limited Edition Fine Archival Print Release, featuring Sarah West's latest portrait rendering of "Jim Avett," originally rendered in Fine Graphite upon Paper Panel. This event will also host the first exhibition of the original work made available for public view. This Limited Edition Print release marks the one and only Fine Art Rendering by Sarah West featuring a member of the Avett family to  be made available to friends, family and the general public through Fine Print Purchases. All proceeds from the sale of this Limited Edition Print on the evening of October 8th will be donated to a disaster relief fund designated by Jim Avett.
Both Jim Avett & Sarah West will be present at this event for print signing.
About the Print:
Making no exceptions in both original work and archival print production, Sarah West prides herself at holding her work to standards exemplifying the highest quality for longevity. For this meaningful rendering of Jim Avett, this holds true. With great appreciation and respect for longstanding tradition, Sarah West has chosen a fine quality of archival print paper- created by the a manufacturer of fine papers with over 400 year of experience in providing artistic visionaries with the finest of paper for centuries. Each signed print will be featured in archival print sleeve, accompanied by certificate of authenticity and About the Artist & Artwork information. Each Commemorative Limited Edition Print released for this special occasion will be offered in a single size with dimensions of 20x 16″.
Print Price: $65.00
Prints will be available at 6 o'clock pm est, on Thursday October 8th, 2015.
Those who are unable to attend this event may still acquire a print.
All pre-ordered prints will be presented to Jim Avett for signing on October 8th.
Prints will ship to recipient the following week. There is a $15.00 fee for shipping. *no P.O Boxes please.
To purchase your very own "Jim Avett," Limited Edition Fine Archival Print, signed by Jim Avett and artisan, Sarah West, please call 334-480-2008.
Orders may be placed by phone or via email- sarahwestgallery@att.net
All Orders Must be Paid at the time the order is placed.
Payment with major credit card may be placed by phone or checks are welcome made payable to:
The Sarah West Gallery of Fine Art
 2750 Lee Rd 430 Smiths Station, AL 36877
For all inquires regarding "An Evening with Jim Avett," Pre-Show Reception, Gallery Exhibition and Print Release, we invite you to contact the Sarah West Gallery of Fine Art- 334-480-2008.