This holiday season artists of the Sarah West Gallery of Fine Art, A Center for Cultural Arts reflect upon the many experiences and opportunities that we have been honored to be a part of and most importantly all that we have been honored to share with others.
Ten years ago, when we set out on this journey, we did so never looking toward an anticipated end or finale;  instead, with every fiber of our being we choose to take each step forward deliberately knowing that whatever lay ahead of us would shape us and inform our future as we first elected to establish a foundation that we could build upon. That foundation was forged through purpose. With a desire to fulfill needs, to help our fellow man, and succeed, we found the root of our art was a call to stewardship for heritage, community and commitment to preservation for longevity.
Continued Education has long been a source for sustainability, and for Smiths Station Alabama's only independently owned fine arts establishment devoted to the cause year round, this has been an integral part of that vision and calling. Over the years, the vision expands, meetings are called, business plans are revised and through the seasons we grow, focusing our respective view to address deeper needs within our community. Continued Fine Art Education through the arts has provided us with better, more creative and empathetic ways to connect, understand and help our fellow citizens learn, aspire for more and discover realms of greater potential than individuals might have credited themselves prior to participating in our programs.
In 2017, the Sarah West Gallery of Fine Art founders (family- mother/daughter duo,) Sarah West & Michele West, discovered yet another way that the growing cultural arts center could extend community outreach and provide more. In Fall of the same year, the Sarah West Gallery of Fine Art's existing Cultural Arts Enrichment Initiative added a in-house sponsored Scholarship for Continued Fine Art Education to a continuing list of programs. Although since it's founding in 2008, the Sarah West Gallery of Fine Art has silently met the needs of the less fortunate or those faced with unexpected personal disasters or temporary hardships, we felt that in order to make the greater positive difference that we desired, it was time to address cultural needs within our community on a much larger and public scale.
We presented ourselves with the questions, "If not now, when? And, if not us, whom?"
As a small business owner, I felt pressed to weigh and balance both the fact that we were still determined to maintain and grow an independent locally owned for-profit business, while increasing our philanthropic footprint through the avenue by which we have earned ways to afford ourselves the power to give. I often walked around our studio, which doubles as a shared space for students during the Sarah West Artistic Mentoring Program | Studio Classes, and we would exercise our creative muscles in developing ways to make space for more students through weekly classes.
This led us to address a culturally divided need within our community. Acknowledging that many children and even older individuals could not take classes for various reasons, we began to reexamine and define the underlying causes for their inability or prevention to participate. As many may presume, financial burdens can cause strain and prevent individuals from actively pursuing continued education and/or cultural involvement. However, through our years of observance and first hand experience, we've grown to realize that there is a far more imposing factor that limits many individuals from even considering the positive influences of said involvements, therefore consideration isn't encouraged and for many these positive influences, enlightenment and educational opportunities have been abolished.
In any place where life has flourished there is always hope, and possibility for resurgence.
Understanding the needs and perhaps, more importantly, the limitations culturally, financially and geographically for this part of our Southeastern Region, the Sarah West Gallery of Fine chose to implement a plan for culturally resurgence here at home.
Through the Sarah West Artistic Mentoring Program and Scholarship for Continued Fine Art Education, we reached out to all local schools in our immediate community and in addition those directly serving citizens in the Smiths Station area. The Sarah West Gallery of Fine Art offered in-house sponsored, all-expense paid scholarships to the schools. Schools that responded were immediately awarded equally distributed scholarships. Our only advising request to the schools was that they consider awarding the scholarship to students who (to the best of their knowing) have not had the opportunity to further art study through an extra-curricular art program. Since 2017, over 18 elementary students attending schools in Salem and Smiths Station, Alabama have received Scholarships. This program is ongoing, continues to grow and in the coming year additional schools should be added to the list of participating schools awarding students the opportunity for further Cultural Enrichment through the study of Visual Arts.
Aside from establishing the Scholarship for Continued Fine Art Education, we felt that we must also develop an appropriate avenue by which patrons of the arts may also support this ongoing endeavor. Understanding that we all know someone in need, we felt that we should establish the Seed Scholarship Program. This program provides anyone with the opportunity to sponsor an aspiring art student. Through a Seed Scholarship Purchase Gift of $225.00, the Sarah West Gallery of Fine Art awards a Scholarship Gift Certificate to a person who otherwise might not be afforded the opportunity to further one's art study. This program is ongoing. Throughout 2017/2018, three Seed Scholarship Gifts were purchased by art patrons, and distributed to those in need by the Sarah West Gallery of Fine Art. In addition to Scholarship Gift Certificates purchased, the Sarah West Gallery of Fine Art also matched and awarded seven more. The total of 10 Seed Scholarships were awarded to individuals of varying ages during 2017-2018 and as we near Christmas we have elected to award even more.
The growing inclusive total of Scholarships awarded this year are 28+
Through the Scholarship for Continued Fine Art Education, area teachers and school faculty have presented inspiring reviews further validating the positive influence that cultural arts enrichment has upon lives. Teachers remark, "I've seen a difference in my classroom. Students who once seemed lost in the crowd now have found their own unique form of expression, a sense of identity and and newfound confidence…they are communicating better with classmates and are engaging in class studies."
This impact has inspired local teachers to consider creative ways to integrate art programs into their school days. In 2018, the Sarah West Gallery of Fine Art introduced an After School Art Program for area schools. Through this program, our studio instructors are Taking Fine Art Education into local participating elementary schools in Lee County Alabama. In January 2019, this program will begin its 4th season providing After School Art Classes at participating elementary schools in Salem and Smiths Station Alabama.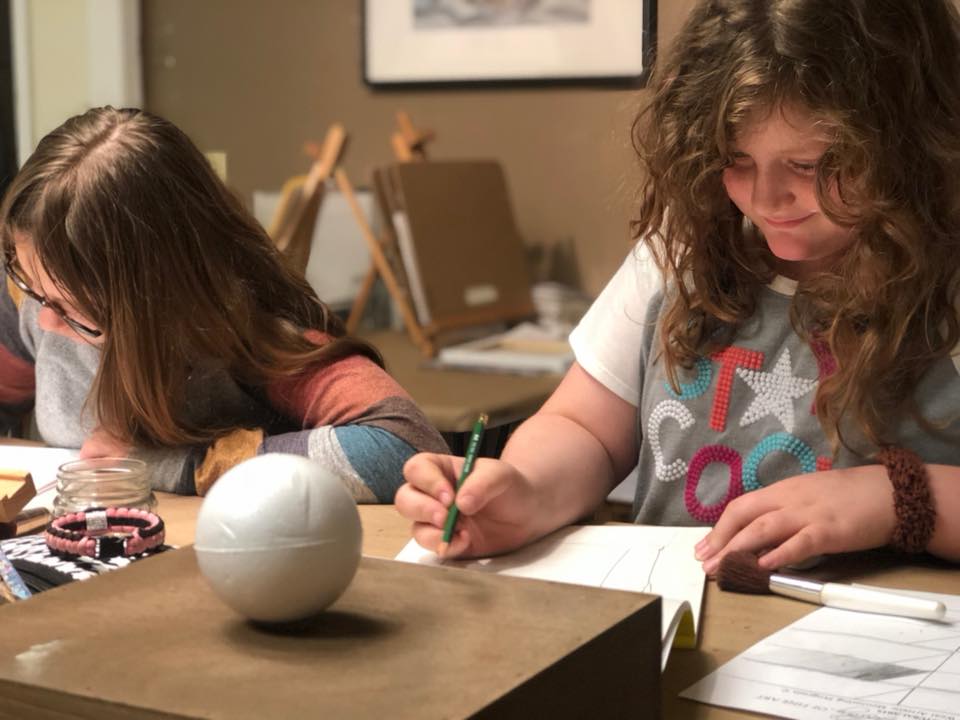 During this holiday season, we reflect upon these experiences and opportunities that have shaped us and have provided us with infinite ways to learn and grow. We extend our appreciation and gratitude to all who have supported these endeavors, who have championed our vision to make the arts more accessible through renewing sustainable stewardship and by doing so have made the world a better place one individual,and one culturally enriching experience at a time.
To learn more, visit the Sarah West Gallery of Fine Art, A Center for Cultural Arts,
located in the heart of Smiths Station Alabama