Nearly twenty years ago, I began a journey to create something unique. I designed, measured and cut my first pattern from scratch, and stitched the rendering together on my very first sewing machine. I circle back in memory when something in present evokes a sentiment I've felt before. Only it's like the T.S Eliot quote, " …to arrive back where we started and know the place for the first time." There is familiarity in remembrance, and yet as we evolve we become changed by every experience. These experiences teach us and bring us back to the places where we began.
To arrive back where we began can present new and different opportunities if we are bold enough to take those first steps towards the path ahead carrying only one certainty- the opportunity to explore.
I've been on a journey for quite some time. With every trip around the sun, my roots grow deeper into this Alabama soil. A journey that began with simple self-taught stitches, now teaches me to look deeper into my heritage in search of the threads to weave these pages into more chapters.
As the days of COVID-19 linger on, state-wide Stay At Home orders relax a little, and I do not. I delve deeper into my mission for sustainability, and take to new projects that awaken remembrance. The machine isn't the beginner model upon which I first learned to sew. The fabric now has provenance in pattern, thread and can be traced back to the farm.
I kept to the back roads on my trek through the Alabama piedmont, and to the north I drove. A textile spool too heavy to carry accompanied me home. With gratitude to my Alabama farmers and Southeastern region manufacturers, I continue an endeavor I began nearly twenty years ago.
-Sarah West
This Summer, Sarah West will debut Signature Studio apparel handcrafted with 100% sustainable fabric made of cotton grown and harvested in Alabama. This signature studio apparel will be available to purchase, exclusively through The Sarah West Gallery of Fine Art, A Center for Cultural Arts. Select items will be available via THE ART BOX | SIGNATURE STUDIO EDITION.
Process & Provenance
Sustainability through the farm to table movement has long been a cause closely associated with our work, both in visual art and through our continued endeavors to advocate for and support local farms throughout our region. It has been a desire long in the making to have a studio apron with threads of documented provenance that we could proudly place in the hands of our art students. After years of searching for this garment, we realized that perhaps we were meant to make it. We began our search. First, we searched a broad spectrum as we endeavored to locate an American fabric manufacturer. Then, it occurred to us that if we searched carefully, then just maybe we could find not only an American made fabric company, but a company whose fabric is grown entirely in the United States. Then we narrowed our search further, questioning "could we find a farmer in our home state, whose cotton never leaves the region for processing?" The answer to our revised question was, yes.
In conversations regarding farm to table sustainability, we often present the question, "do you know where your food comes from?" Whether we are sourcing quality fine art supplies for our studio or perhaps new items for our wardrobe, we call into question the item's heritage or provenance. The quality of process and the heritage of anything matters deeply to us. We believe in giving our very best, and therefore we continue our search to find and share the fruits of our labor. This being a significant part of our mission has informed our search for the very best quality, ethically grown and processed fabric that has traveled the least distance from farm to processing facility and then to our studio.
The Signature Studio Apron is comprised entirely of 100% Alabama Grown Cotton, sown and harvested in Lawrence County, Alabama. From field, the cotton travels to processing facilities within the Southeastern region, where it is processed from cotton to thread and woven into traditional ticking stripe fabric. With limited travel, the production of our fabric renders minimal footprint environmentally, thus fulfilling our mission towards increasing sustainability. Produced entirely of  Alabama Grown Cotton, the fabric's style, pattern and texture is modeled after over 100 year old heirloom linens. Historically speaking ticking stripe fabric has been around for centuries. Developed for its' durability the fabric type originated in Nimes, France, and has since circulated the globe, with diverse cultures o'er the ages rendering their own interpretations. In Alabama, the farmer has chosen to honor the land which yields this quality harvest, giving our apron's fabric the name, Lawrence Ticking Stripe. We graciously acknowledge the Red Land Cotton Company of Moulton, Alabama for the provision of their fabric for our handcrafted studio aprons.
Signature Studio Sleeve Stockings are the essential item preferred only second to the apron by Sarah West. Informed by the provisions general store clerks, the letter press printers and newspaper men of bygone era's, our Signature Sleeve Stockings are designed and crafted to provide the artist with a protective covering for one's sleeves. Historically, sleeve stockings were worn to protect a gentleman's cuff sleeves from becoming soiled during daily work. In studio, American narrative painter, Sarah West found herself in need of sleeve stockings to shield her sleeves from permanent staining due to potential contact of oil paint when rendering her large scale narratives. From one artist to her students and by extension, Signature Stocking Sleeves will be made available for purchase at the Sarah West Gallery of Fine Art. Sizes are: Adults: One Size fits most, Children/Youth
The Signature Studio Smock is the timeless essential for the artist of any age. Representing a heritage carried forth by artists and historians for centuries, the artist's Signature Studio Smock is the universal staple garment that remains as relevant and useful today as is has in any era previous. *the Signature Studio Smock Release Date will be announce late summer 2020.
Scroll down for purchase details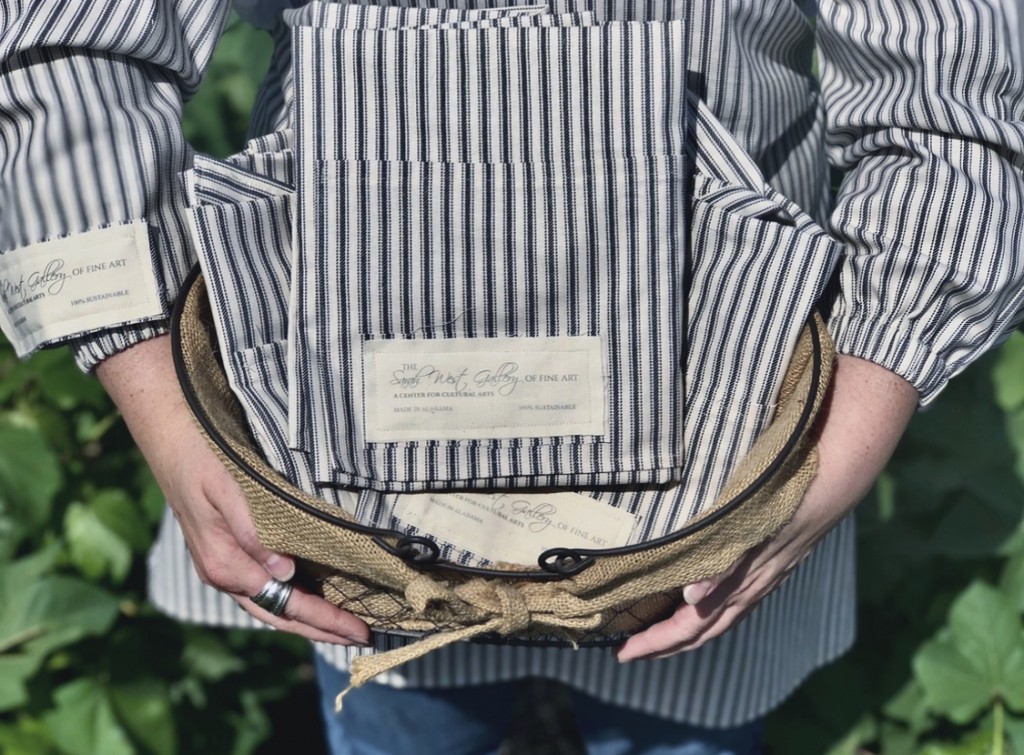 As people across the globe find refuge in the safety of home, we have chosen to launch our sustainable line of Signature Studio apparel via mail-order. To purchase your very one Alabama Grown, Alabama Made Signature Studio apparel from The Sarah West Gallery of Fine Art, A Center for Cultural Arts, simply call 334-480-2008. Your order can be processed over the phone. We will graciously ship anywhere in the U.S. And curbside pick-up is always available at our Art Center located in the heart of Smiths Station at 2750 Lee Rd 430 Smiths Station, AL 36877.